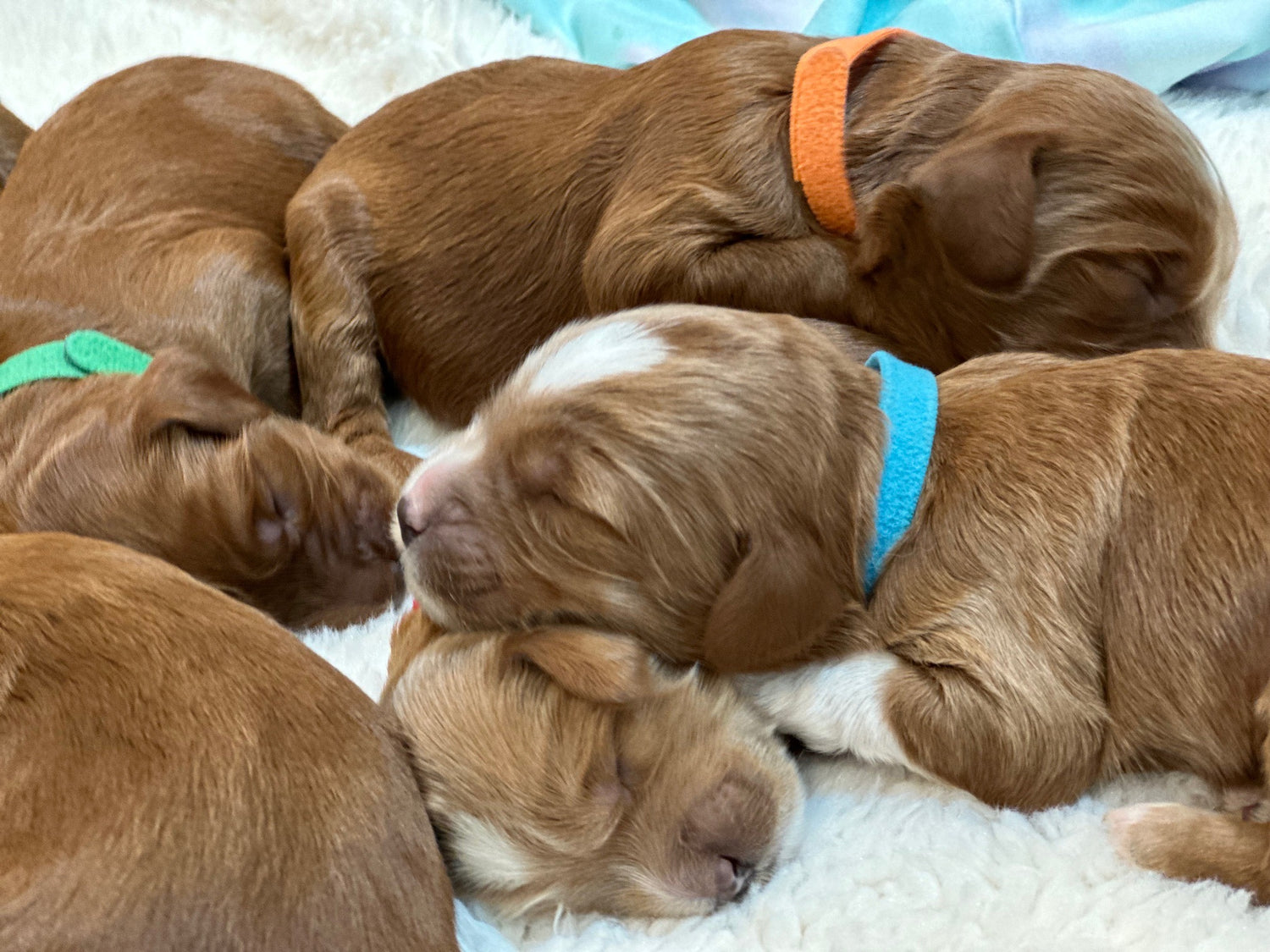 Jefferson and Piper litter expected to arrive early January 2024
We expect around 8 pups and they will be ready to go home in early March. Many of these are spoken for, but a few are still available!
Go see!
Socialized right from the start
Every puppy that is born with us is handled and socialized from day one with our breeding staff and our children, being exposed to multiple sights and sounds and physical sensations to stimulate new neural pathways for optimal intelligence. Our puppy curriculum is ever evolving and intentionally designed to produce calm, balanced dogs who will heal your heart as much as they steal
Health Guarantee
Each puppy is health and temperament tested and comes with a 2 year health warranty, a veterinarian health certificate, and has received their first age appropriate immunizations. We screen for genetic diseases such as cancer, hip and elbow dysplasia, cardiac and PRA (progressive retinal atrophy). Our extensive health screening combined with our health guarantee gives you a healthy puppy and peace of mind.
Upcoming Litters
We are taking puppy applications for our current litter of puppies at this time.
How to Reserve your puppy
Our Puppies Cost: $3000
Deposit: $500 (goes toward total purchase price)
This Price Includes: Healthy puppy vet exam, first round puppy vaccines, deworming, 2 year-long genetic health guarantee, initial crate training, toy, homemade puppy treats and a lifetime of breeder support.
1. Please read through our FAQ page. Many of our important policies that we expect for all families to know prior to applying are on this page.
2. Fill out application here.
3. We will contact you to confirm receipt of application and potentially ask any follow up questions and confirm availability
4. Once we've received your application, then we will ask you to send a $500 non-refundable reservation fee to be added to our litter reservation list.
5. The remaining $2500 balance of the final purchase price due when puppy is seven weeks old.
Reservations fees - are taken in the order that they are received. Deposits are non-refundable but can be applied to other litters should the litter you requested not have availability or should your circumstances change. Payments can be made directly on this site or you can mail a personal check. Once we have received your deposit you will officially be placed on a reservation list.
Communication - We will contact you with are estimated due date and notify you once puppies are born and provide you a detailed "next steps" email.
When Your Puppy is Born....
Puppy Birthday
Puppy Birthday!
We will contact you once your puppy has been born and we will post a group puppy photo to our puppy blog.
Three weeks:
Individual puppy photos will be added to the blog after the puppies have opened their eyes around three weeks old.
Six weeks:
When the puppies are around six weeks old we begin to see their unique looks and personalities and we will share this with you over a recorded video where we introduce each puppy; individually highlighting their character traits. We will also send out a survey asking you more details on your preferences. This information helps us with the matching process.
At this time, you will be able to choose your 3 favorite puppies and we will thoroughly discuss your specific desires and options. We will work with you to determine which puppy will be the best fit for your family based on it's temperament, your choices, and our experience.
We have found this to be the best process to ensure the best match for lifelong companions.
Seven Weeks:
After completing our final temperament testing and veterinarian visit, we will match each puppy to their new families and determine which puppies we plan to keep for our breeding program.
At this time final payment is due.
Eight to Nine weeks:
Your puppy will be ready to join your family!
About Our Guardian Program....
If you are interested in becoming a guardian feel free to read about the expectations and benefits of raising one of our breeding dogs. You will also need to fill out a Guardian Application to be considered for this wonderful opportunity. Families must reside in Central Oregon.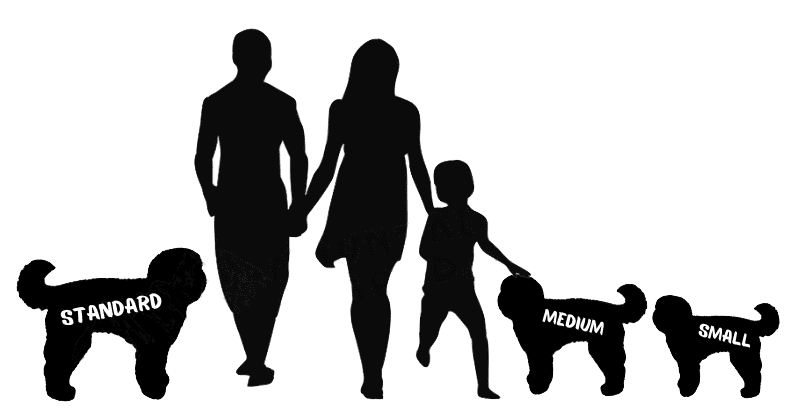 Miniature/Small: 20-35 lbs,  Height: 14-16″
Medium: 30-50 lbs, Height: 17-19″
Standard: 45-65 lbs, Height: 20-25″
Life Expectancy:
Labradoodles may live for approximately 12-15 years